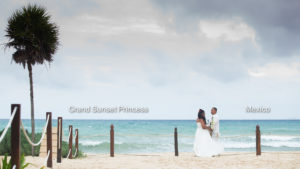 A Year ago our family went through tough times.
My dad was at the hospital, but my brother and Elle decided to tie the knot at the hospital where our dad was confined. It was a day where only family and friends were around before they tied the knot in Mexico.
We flew to Mexico on Elles Birthday and we got to capture their journey from the airport to the resort. And we had a surprise birthday dinner.
I'd say this is the longest I've stayed at destination wedding. Usually we're just there for three to five days, but this time we stayed for seven days.
It was raining before the wedding, but the weather was on our side. The rain stopped and the ceremony went on. They were supposed to have the reception by the beach, but decided to make it indoors since the whether said there was a thunderstorm coming. Towards the end of the reception, we played the Toronto wedding highlights, followed by the surprise bday video for Elle and then finish it up with the Mexico Wedding SDE. I was overwhelmed as I witnessed the emotions in the room. I've never seen my brother tear up like that before. Everyone in the room teared as they watched the Toronto wedding highlights. Before we head back to Toronto we went for an excursion. We did some ATV off roading and zip lining,  then stayed up the whole night till the morning to do the trash the dress.
Happy Anniversary Elle & Jae, we wish you a lifetime full of love and happiness.
Check out the Videos below.
Toronto Wedding Highlights
Elle's Surprise Birthday Dinner
Elle & Jae's SDE {Mexico Wedding}
Elle & Jae Trash the Dress