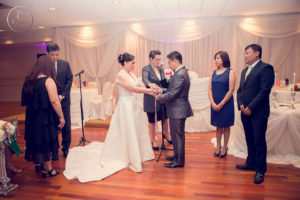 In support of pride month and gender equality, we would like to feature our couple Janet and Jeng. They were together for 12 years before deciding to tie the knot despite all different challenges.
We did their engagement shoot during cherry blossom month at High Park and it was a perfect spring day for their engagement session. Flowers were blooming, it was sunny and they were filling it with love in every picture. They were very easy to work with so capturing they're love story came naturally.
August 8, 2015: The Wedding Day. Our lovely bride Janet got ready at Holliday Inn Yorkdale. We captured her getting ready with ease and also captured a lot of mix emotions. She looked stunning with her elegant wedding dress. And Jeng (Groom) got ready at his uncle's house in Toronto. He looked sharp with his Suit and so excited to see his beautiful bride. They both headed to Ascott Parc where they went on to tie the knot and have their reception. The Ceremony hall was filled with Family and close friends from different countries like Philippines, USA, Hong Kong and other places. After they said the vows Jeng said loudly: "We made it!" where both of them had tears of joy. While the guests headed for the cocktails, we took the couple to the garden and gazebo for their wedding portraits before heading for the reception.
To Janet and Jeng Congratulations! We wish you lots of love and happiness. Don't forget to check out some of their engagement and wedding photos. #torontopride #samesexwedding #croyalsstudio #torontoweddingphotographer